About
The Toner Program in Political Reporting was established in the S.I. Newhouse School of Public Communications at Syracuse University in 2009 to celebrate the life and work of alumna Robin Toner '76, the acclaimed late New York Times political correspondent.
The program includes the annual Toner Prize for Excellence in Political Reporting and the Toner Symposium. Starting with the 2020 award, the prizes expand to two: The Toner Prize for Excellence in National Political Reporting and the Toner Prize for Excellence in Local Political Reporting. Each prize carries a $5,000 honorarium. In addition, the criteria for the prizes are refined to focus on the coverage of campaigns, candidates and elections that were Robin Toner's special passion.
About Robin Toner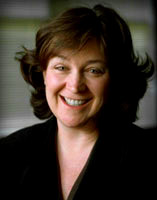 Noted for her relentless approach, meticulous work and elegant delivery, Toner was the first woman to be national political correspondent for The New York Times. In her nearly 25 years with The Times, she covered five presidential campaigns, scores of Congressional and gubernatorial races and most of the country's major political and policy issues. She was The Times' lead reporter on the 1992 presidential election of Bill Clinton and one of its most authoritative journalists covering health care policy and politics. The late Sen. Edward M. Kennedy described Toner as "a reporter's reporter who deeply cared about the people and the issues she covered."
Toner grew up in Chadds Ford, Pennsylvania, one of six children. She was a summa cum laude graduate of Syracuse University with dual degrees in journalism from the Newhouse School and political science from the Maxwell School of Citizenship and Public Affairs. She began her journalism career in West Virginia with the Charleston Daily Mail and also reported for The Atlanta Journal-Constitution, covering local politics for both papers. She was married to fellow journalist Peter Gosselin and was the mother of twins, Nora and Jacob.
Toner died in December 2008, leaving indelible marks on the profession and people she so loved.
To honor her life and work, Toner's family, friends and former classmates launched a fundraising campaign to support The Robin Toner Program in Political Reporting. Learn more about how you can contribute.