Deadline to submit entries for the Toner Prize has passed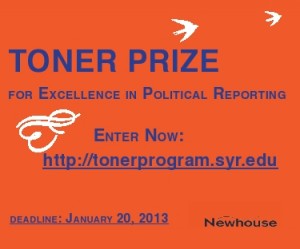 Entries for the $5,000 Toner Prize for Excellence in Political Reporting for 2012 are now being accepted by the S.I. Newhouse School of Public Communications at Syracuse University.
The Toner Prize recognizes outstanding political reporting in a tribute to Robin Toner, the late national political correspondent for The New York Times and a summa cum laude graduate of Syracuse University with dual degrees in journalism and political science.
Deadline for entries is Jan. 20, 2013.
"The 2012 coverage of elections gives a special significance for the Toner Prize this year," said Charlotte Grimes, the Knight Chair in Political Reporting and the administrator of the Robin Toner Program in Political Reporting. "Giving voters solid, insightful and factual information to make informed decisions is the core mission of political reporting – and a hallmark of the work of Robin Toner."
This is the third year of the Toner Prize. The first prize, in 2010, went to Craig Harris of The Arizona Republic for an eight-part series on Arizona's broken and expensive public pension plan. The 2011 Toner Prize was awarded to Jane Mayer of The New Yorker for her in-depth look at a prominent political donor's influence on North Carolina politics.
The Toner Prize is part of The Robin Toner Program in Political Reporting created by the Newhouse School and the Maxwell School of Public Affairs and Citizenship at Syracuse University. Toner's family, friends and classmates have created the Robin Toner Endowed Fund to raise a $1-million endowment to support the program.
The Toner Prize goes to the best national or local political reporting on any platform – print, broadcast or online. Entries must be fact-based reporting, not commentary.  Single articles, series or a body of work are eligible. The work must have been published, posted or broadcast between Jan. 1, 2012, and Dec. 31, 2013.
"We're strongly encouraging entries of election coverage – presidential, congressional or local elections," said Toner Program administrator Grimes.
Entries will be judged on how well they reflect the high standards and depth of reporting that marked Toner's work. In particular, the judges will look for how well the entries:
Illuminate the electoral process or
Reveal the politics of policy and
Engage the public in democracy.
Entries should be submitted online at http://tonerprogram.syr.edu .
In her journalism career, Toner spent nearly 25 years with The New York Times, covering five presidential campaigns, scores of congressional and gubernatorial races and many of the country's major political and policy issues. Toner died in December 2008.
For more information, contact Charlotte Grimes at Syracuse University, at 315-443-2366 or cgrimes@syr.edu.
-30-